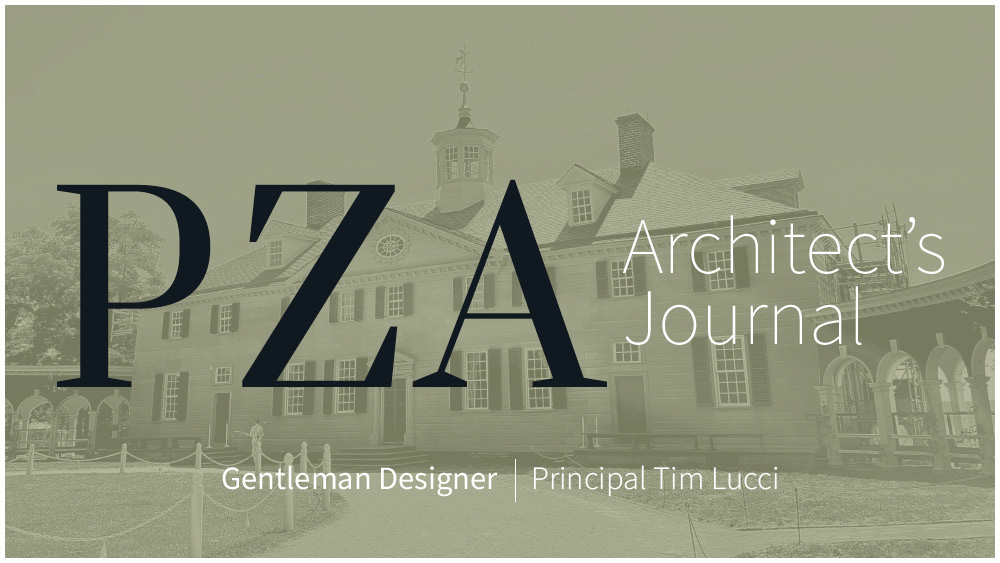 Gentleman Designer
post by: Tim Lucci
Recently I visited George Washington's Mt. Vernon. I was struck by the beauty and thoughtfulness of this place. George Washington was not an architect. There was no such thing as a colonial architect. In fact, there were no trained architects in colonial America at that time. He designed his estate, the additions to his family home, its surrounding buildings and garden spaces by reading pamphlets, pattern books and gathering ideas from the latest trends in Europe at that time. Similar to what Thomas Jefferson accomplished at Monticello, Washington primarily followed steadfast rules established by classical Greek and Roman societies, exemplified by the writings and formal architecture of Vitruvius and the works and writings of the Italian architect Andrea Palladio.
As a gentleman designer, Washington, pieced together ideas to allow his buildings and gardens to work as a unified whole. Buildings, walls, and landscaping are positioned to organize the vast acreage and create outdoor rooms, from formal gardens and vegetable gardens to the stable and work areas. A favorite of mine is the upper garden which is highlighted by the greenhouse. One can get a glimpse of the garden through a narrow gate as you enter the property from the front of the Bowling Green. The formal garden is lush with flowering plants, fruit trees, and sculpted hedge rows of boxwoods.
Lastly, as all good architects and designers understand, it is important to know when you can break the rules. Classical architecture follows the foundational principles of symmetry, proportion and scale. Washington applied these principles as he laid out the many additions to Mount Vernon. However, the portico he added on to the rear of Mt Vernon had never been seen on a residential scale. Used primarily on public buildings, Washington used the portico to allow for shade and a place to relax and entertain company while enjoying the great views of the Potomac that this space offered.